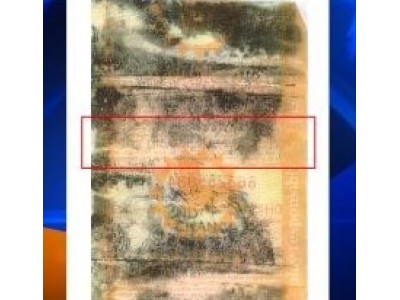 The winner of the Superlotto-plus $63 million Jackpot came forward at the last minute to claim his prize, but there was a big issue. His ticket was so badly damaged, it was almost impossible to make out anything on it.
After a long search involving the media, it appeared that the winner has been found. Brandy Milliner came forward claiming that he is the rightful winner. But it wasn't that easy to get his winnings. The ticket was turned in with only days left until the winnings were to be passed on to the Californian Education Agency.
Not that simple
Unfortunately, the ticket was rejected by the superlotto-plus lottery officials as being "too damaged to be reconstructed". But Milliner not only claims that he has the winning ticket, but that he also has a letter congratulating him on his jackpot win from the super-lotto plus organisers. He adds that it was only later that he received the letter informing him that the ticket was too damaged and he would not be receiving the prize.
After being denied his win, Milliner requested that his damaged ticket be returned to him, but this was also denied. He then began legal proceedings with the hope of getting the judge to see his side of the story and decide that he is the actual winner.
Organisers of the superlotto-plus are still not convinced. "If, by some miracle you happen to find this extremely valuable piece of paper, Superlotto-plus organizers urge you to sign your ticket & get it as soon as possible to one of our Lottery District Offices."
In the meantime, Milliner said he will continue with the legal proceedings as per his legal advice and seems confident that the superlotto-plus jackpot will be his as soon as he can get a judge to take a look at the case.
Don't risk it!
Avoid finding yourself in the same situation as Milliner. Instead of risking losing your ticket, play the lottery online so that you have no physical ticket to lose!