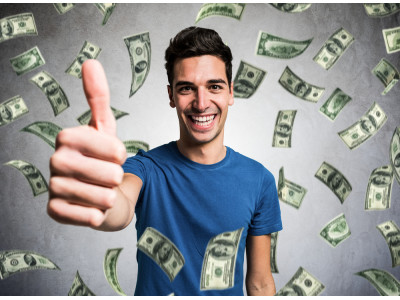 All across the board, it seems that none of the top lotteries have produced a winner this weekend. That means one thing - rollovers! This has resulted in some of the biggest potential jackpots seen in recent weeks. The biggest of which is that of the US Powerball which is currently boasting a massive windfall of €212,000,000 ($236 Million).
With such high jackpots at stake, it's easy for winners to become carried away and lose all sense of responsibility. Far too many lotto winners have fallen victim to the trappings sudden success. It may seem as though there isn't any help out there for new millionaires, but all it takes is a littler research and plan. To start you on the right track, we've compiled a few measures we believe that lottery winners should keep in mind.






Mum's The Word


The very first thing any lottery adviser would pass on to a new winner is keeping the win a secret for as long as you can. This will give the winner time to sit down and plan for the most important things. Add to that, it will minimise the requests from people looking for easy hand-outs. There's no turning back once the cat is out the bag.
Put Together Your A-Team


Many new lottery winners are often fooled into thinking that because the jackpot is so vast, it leaves them a lot of room to both enjoy their lives and later be responsible when they've gotten the debauchery of out of their system. This is exactly the wrong way to look at the windfall.
Firstly, with an irresponsible attitude towards money, no amount is too big to lose. Secondly, winners should only start to enjoy their money once a plan is in place. Doing it the other way around most likely will leave you with a lot less to plan for your future.
The best way to curtail yourself from starting off your millionaire life on the wrong foot is to hire professionals. Start doing some research and check the background of individual financial advisors as well as a legal team. Share with them what your vision is for your future. Once you have this in place, your team will draw up strict guidelines for you to follow. However, remember that it is pointless hiring a legal team if you do not use their experience to your advantage.
It is also advisable to get to know some core financial fundamental ideas. Doing so will help you to better understand the way money really works when it comes to investing.
Plan For Your Future


This may seem obvious, but planning for your future includes putting money away for things that are unforeseen. This does not just mean paying off your debts, which is the very first thing you should think about. Think about how you would like to retire, unforeseen medical costs for you and your family, as well as separate funds for educational expenses. Lottery stories are littered with people who have been totally blindsided by life's curve balls.
Don't Make The Drastic Decisions Immediately


Without fail, the very first thing every lottery winner considers is whether or not he or she should go straight into early retirement. The best advice, according to many advisors is to stay at work for a few months to give yourself some time to think. The key idea is to get yourself used to the new reality of your financial situation. Alternatively, if your job is stressful, it may be a good idea to take some leave and go on a short holiday.
Enjoy Your Spoils


Once everything is in place and a plan has been set out for you to follow, you've earned yourself some time off. If it is within your financial plan, it's completely okay to spoil yourself a little. Perhaps you've been meaning to buy a new car or do some home remodeling. Either way, stay in control and stick to the budget. At the very least, now you've laid the groundwork to be able to enjoy the money. After all, you've just won the lottery!
Lottery Results
Rank
Lottery Game
Lucky Numbers
Prize
Next Draw
1
Mega Millions
€175,000,000
Tuesday ,Friday @ 23:00 ET
2
US Powerball
€159,000,000
Wednesday, Saturday @ 10:59 ET
3
SuperEna Lotto
€80,000,000
Tuesday, Thursday, Saturday @ 20:00
4
California Superlotto
€67,000,000
Wednesday, Saturday @ 19:45
5
German Lotto
€31,000,000
Wednesday @ 18:25, Saturday 19:25 CET
6
Eurojackpot
€26,000,000,000
Friday @ 21:00 CET
7
Euromillions
€17,000,000
Tuesday, Friday @ 20:00 GMT
8
Oz Lotto
€14,000,000
Tuesday @ 23:30
9
Irish Lotto
€6,000,000
Wednesday, Saturday @ 20:00 GMT
10
Megasena
€1,000,000
Wednesday, Saturday 20:00 GMT-3
For more information on the draws, check out our results page