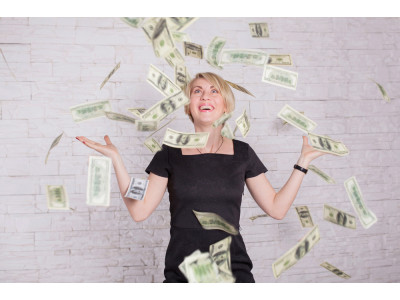 According to Dutch publicists, the massive €90 million Euro Jackpot prize has finally been won! Although the jackpot was won by five ticket holders, all of them unknown at this point, one of those lucky winners is a native of Lombardijen in the Netherlands.
Kanan Cetinkaya, the Primera contributor to the Spinozaweg, says that she sees people walking into the tobacco store to play the Euro Jackpot on a daily basis. The unknown Dutchman will be the lucky recipient of the massive €18 Million share of the larger €90 Million jackpot.
Apparently, this is not the first that a lucky Euro Jackpot winner purchased the winning ticket from the store. In October, one lucky ticket holder took home the massive €76 Million prize, bought from the very same store. These days, the locals all call the tobacconist shop the "lucky store."
According to the salesperson, the store has seen a drastic influx of customers since the store has become associated with luck.
"We are all called lucky store now," boasts Cetinkaya.
With the Euro Jackpot now finally giving up its treasure, perhaps we'll soon see the same from some of the other popular lotteries. Currently, the biggest jackpots on offer are that of the Mega Millions at €120,000,000 and the lotto titan, the US Powerball which is now at €101,000,000.
Lottery Game
Lucky Numbers
Prize
Next Draw
Mega Millions
€120,000,000
Tuesday ,Friday @ 23:00 ET
Eurojackpot
€10,000,000
Friday @ 21:00 CET
US Powerball
€101,000,000
Wednesday, Saturday @ 10:59pm ET
SuperEna Lotto
€73,000,000
Tuesday, Thursday, Saturday @ 20:00
California Superlotto
€64,500,000
Wednesday, Saturday @ 19:45
Euromillions
€45,000,000
Tuesday, Friday @ 20:45
Irish Lotto
€4,000,000
Wednesday, Saturday @ 20:00 GMT

Oz Lotto

| | | | | | | | | |
| --- | --- | --- | --- | --- | --- | --- | --- | --- |
| 1 | 27 | 17 | 12 | 24 | 15 | 23 | 41 | 29 |

€3,500,000
Tuesday @ 23:30
Megasena
€2,000,000
Wednesday, Saturday 20:00 GMT-3
For more information on the draws, check out our results page